Best & Free Video Editing App [2020]-Download For Android
Best & Free Video Editing App [2020]-Download For Android -These apps are very good and convenient for you too. If you like making videos, and you are looking for a good video editor that you cannot find. So don't bother now because we have prepared a list of the best Android video editor apps 2020 for you. Which you can download for free from Google Play Store, but you will see similar apps of these apps on Google Play Store, do not download similar apps.
We will tell you about the Best & Free Video Editing app, using it you can easily edit any video. We will also provide download link for you. So that you can easily download these apps.
Note-: This list has been prepared by us, so there may be some mistake in this list. If you do not like these apps, then you can choose any other Best & Free Video Editing app according to you.
Best & Free Video Editing App
FilmoraGo
Adobe Premiere Club
VideoShow
PowerDirector
KineMaster
Quik
VivaVideo
Funimate
Magisto
Moviemaker
Filmigo
1. FilmoraGo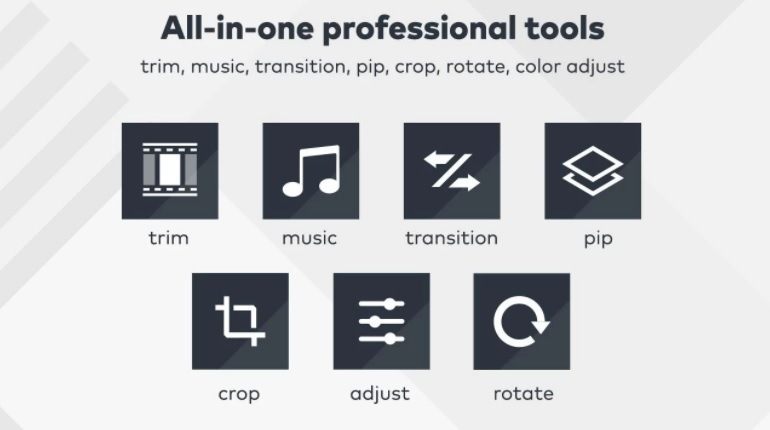 FilmoraGo is a good video editor app, which users are also very fond of. Using this, users can easily do all the tasks like trimming, cutting, adding themes, music and more. In this application, the user also gets many features to make your video good, such as transitions, slow motion, can add text.
The user gets all the features in the FilmoraGo app for free. After editing the video in this application, users can save their videos in the gallery, or upload directly to any social networking site. A wordmark is displayed at the end of the video, you can remove it.
Features Of FilmoraGo
Can already see real preview time of video clip
Photos and videos can be imported from social media websites like Facebook, Instagram, etc.
An extensive collection of templates and effects.
A set of professional editing tools.
2. Adobe Premiere Clip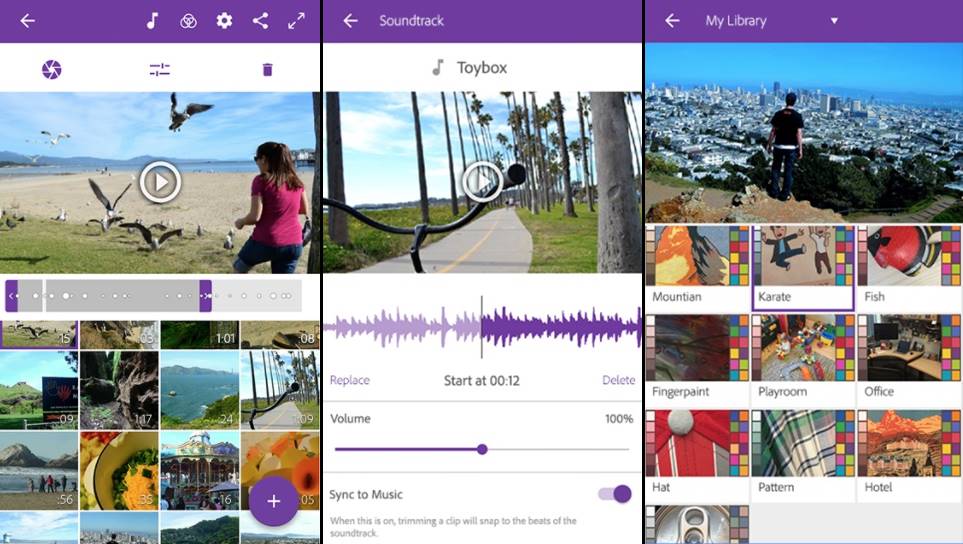 Using the Adobe Premiere Clip app, any user can edit videos easily and quickly. It is very fun to use this application. The most important thing about this app is, this app can automatically create a video for you with any photo or clip you choose.
Apart from this, you can also create your video with many video editing functions like cutting, trimming, transition, music, filters, effects and more.
This app is free to download and you will not see any advertisement during video editing.
Features of Adobe Premiere Clip
Automatic mode for creating videos instantly.
Created videos can be exported to Adobe Premiere Pro CC.
Auto Mix feature dynamically balances the background music in videos.
3. VideoShow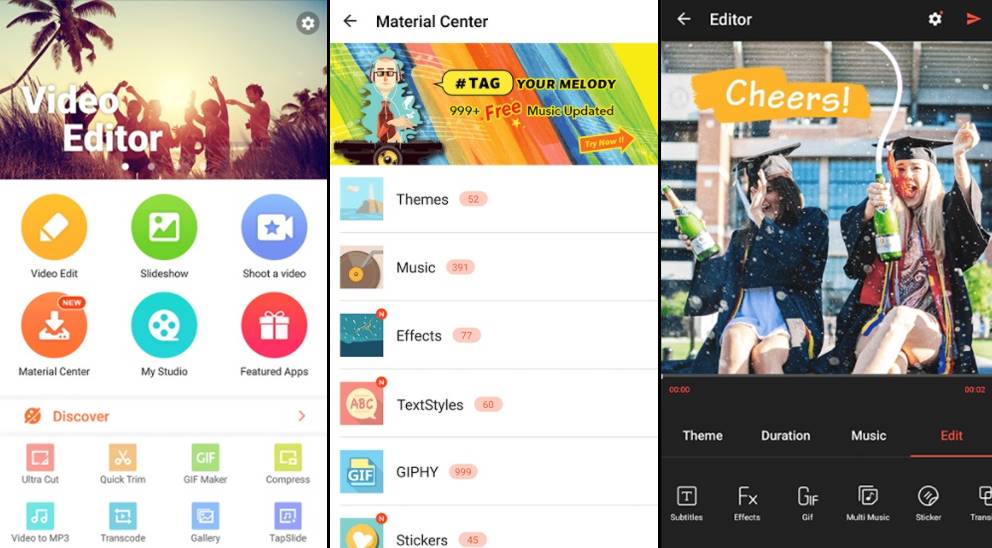 Now all the video editing apps we have told you, VideoShow is better than all the video editing apps because it has got many awards. This app is free to download. It can be installed from the Google Play Store. The interface of this app is quite simple and it is also very easy to use. Apart from the functions required by some of its special features, you can also beautify your video by adding text, effects, music and sound effects or dubbing it live.
In the VideoShow app, the user also gets more than 50 themes. You can also reduce the size of your video by compressing it. This app supports almost all apps.
Features of VideoShow
50 elaborate themes to beautify videos, vlogs, and slideshows
There are also options for adjusting the blur background, audio speed and voice enhancement features.
Multiple music layers can be added to the background of a video.
Can change the sound of the video to mp3.
4. PowerDirector Video Editor App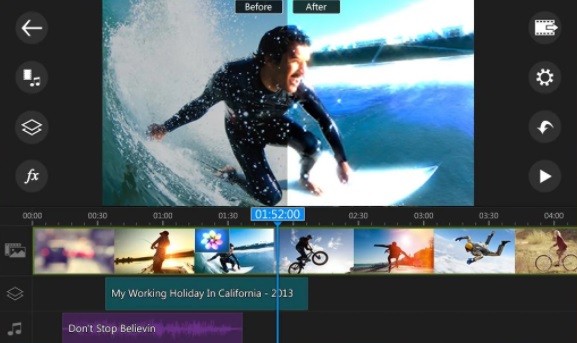 PowerDirector is a fully featured Android video editing app with a timeline interface. So it is a bit difficult to control for most users. But once you understand it well, then you can easily edit any video. It has more than 30 effects to make your video great.
The most special feature of this app is that users can make videos using green screen. This is a free application that you can download for free. In this application, the user gets most of the features for free.
Features of PowerDirector
Videos can be exported in 4K with hardware support.
Slow-mo video editor for creating slow-mo video FX.
Chroma key selector for imparting transparencies in videos and layer effects.
5. KineMaster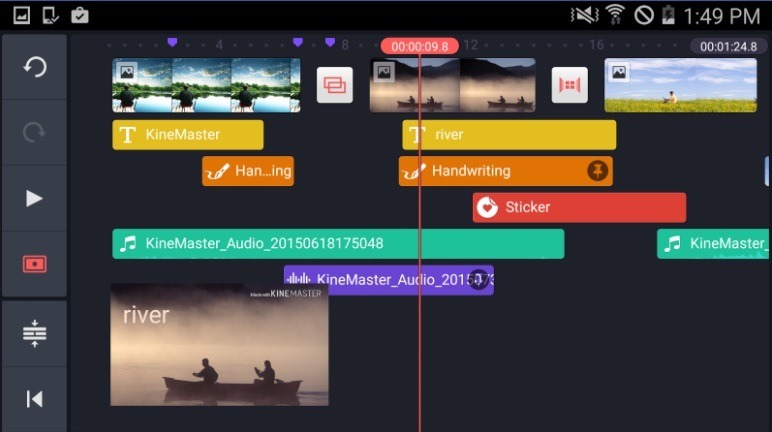 Combined with a well-designed interface with powerful features, KineMaster is a convenient video editing tool for Android. This enables drag-n-drop technology to import various media files easily. KineMaster provides remarkable levels of control over the editing process to create professional videos. You can add different types of transitions between video pieces, or insert blocks of texts or subtitles.
However, removing watermarks and full access to premium assets can be achieved only when you purchase the professional version of the app. In addition, most functions come in the free version.
Features of KineMaster
Multiple layers of videos, images, text, effects, overlays, stickers, and handwriting can be added easily.
Video can be previewed for whether it is well edited or not.
Precise volume control from moment to moment within a clip
6. Quik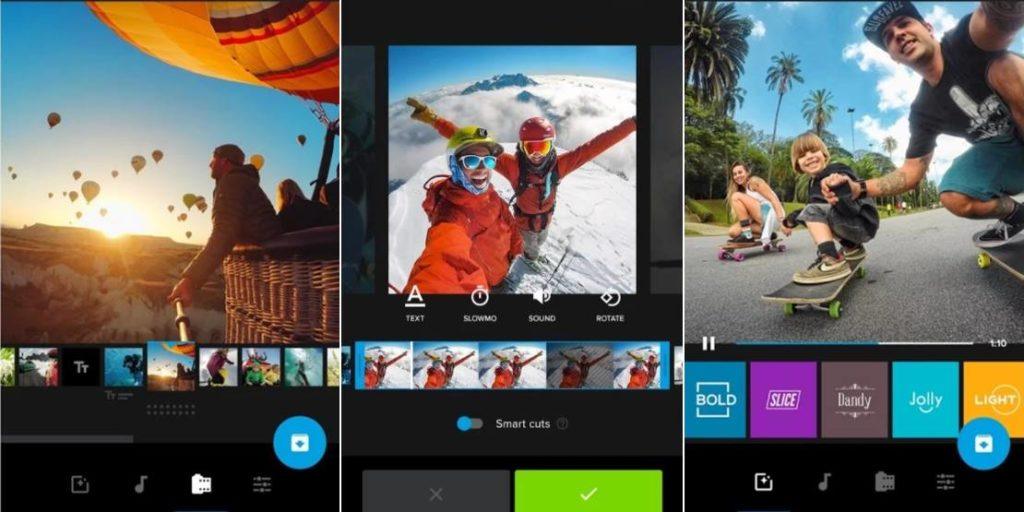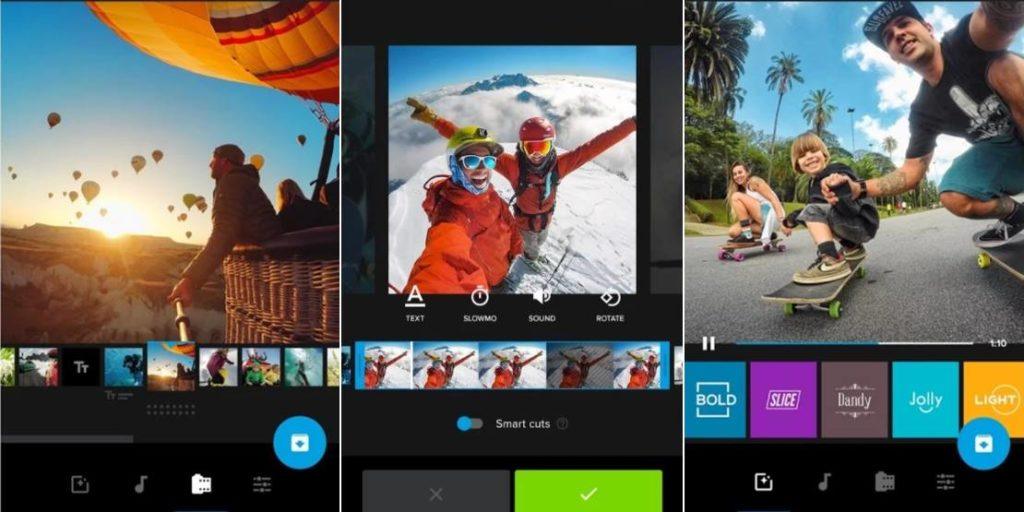 Quik is another smart way to create excellent videos. It is fast and free. Select any of your favorite photos or video clips to make your own stories with Quik. The best thing about Quik is that it comes with automatic video creation capabilities. You can crop videos, add effects, texts, and quickly sync everything to the beat of any music.
Once you have completed the creation of the video, you can save it to your camera roll either in 1080p or 720p, or even directly share it on the social networking sites. Quik is reliable and does not display any annoying ads. It deserves to be featured in this list of best Android video editor apps for its features and convenience.
Transitions are automatically synced to the beats of background music
Quik is compatible with GoPro as well as Motion Photos
Videos can be saved in 60fps for smooth playback
You can save edited videos as drafts for finishing editing later.
7. VivaVideo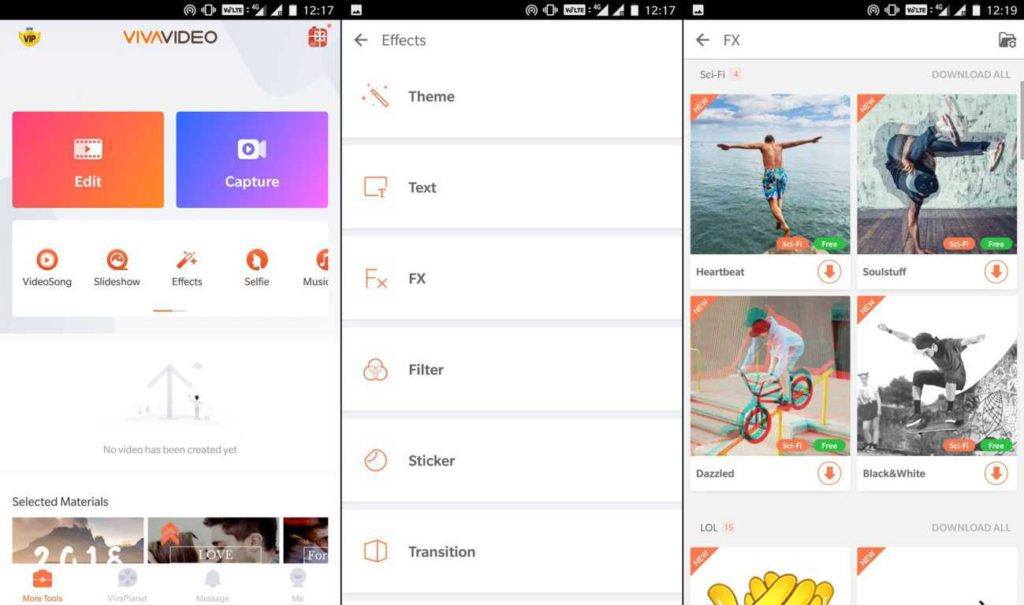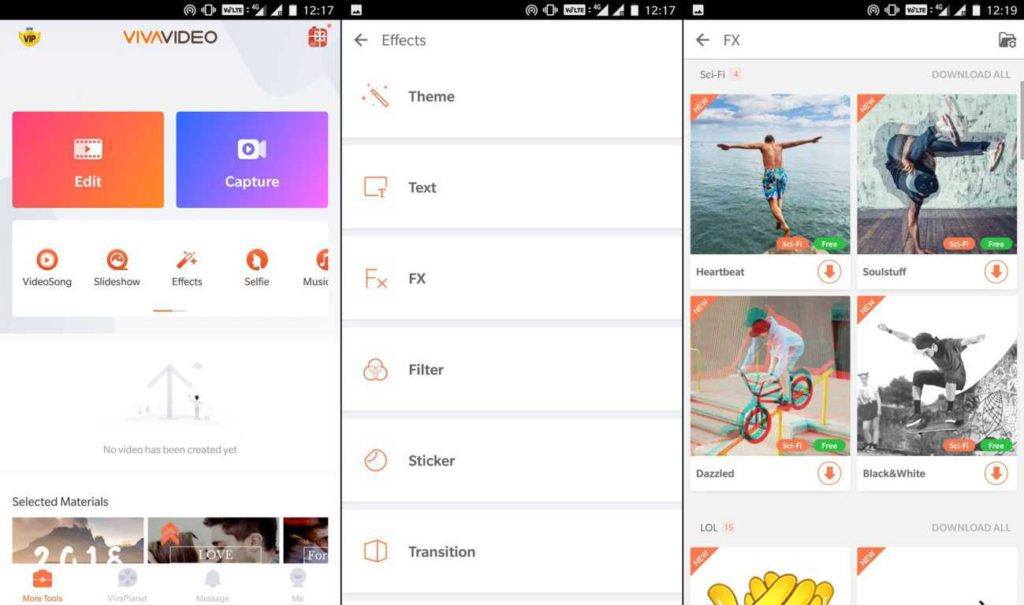 VivaVideo has a lot of impressive video editing features. The app is thoughtfully designed to help you create professional-looking videos directly from your Android. You can choose from hundreds of user-friendly effects that range from stickers and filters to animated clips and subtitles. It has an inbuilt slow-motion video maker and slideshow maker. The essential functions of cutting and pasting videos, trimming, merging clips, etc. can be easily operated.
VivaVideo has over 200 million users worldwide and also one of the best video editing apps for Android. You can also directly share your work on different social networking sites.
Features of VivaVideo
Built-in slow motion video editor.
A wide variety of collage templates and themes to choose from.
Video collage maker for merging video clips.
8. Funimate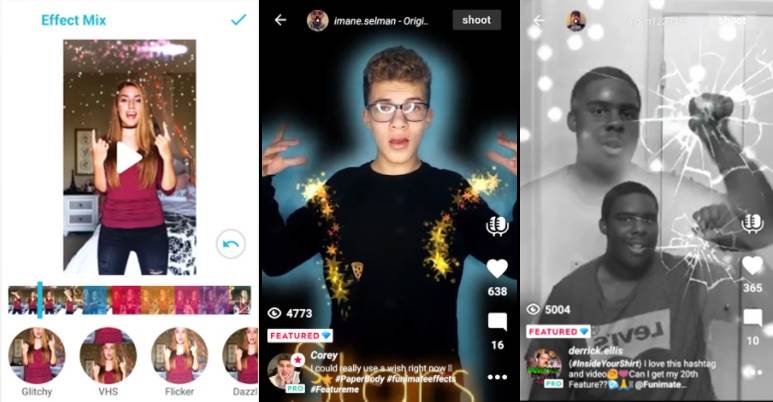 Funimate video editor is perfect for creating fun videos easily. It can instantly transform everyday moments into creative videos and enables automatic sharing options to different social sites. It has over 100 advanced video effects that are designed to be a perfect match for editing short videos. You can even make short video loops which can be entertaining.
Funimate requires signing in before using the app. You can also get followers and follow other accounts in it. It is one of the free video editing apps, but the displayed ads can be annoying.
Features of Funimate
More than 100 advanced video effects for making cool videos
DIY effects from pre-existing photos stored in your smartphone
Feature to make collab videos with friends
A dedicated Funimate video community
9. Magisto Video Editor & Maker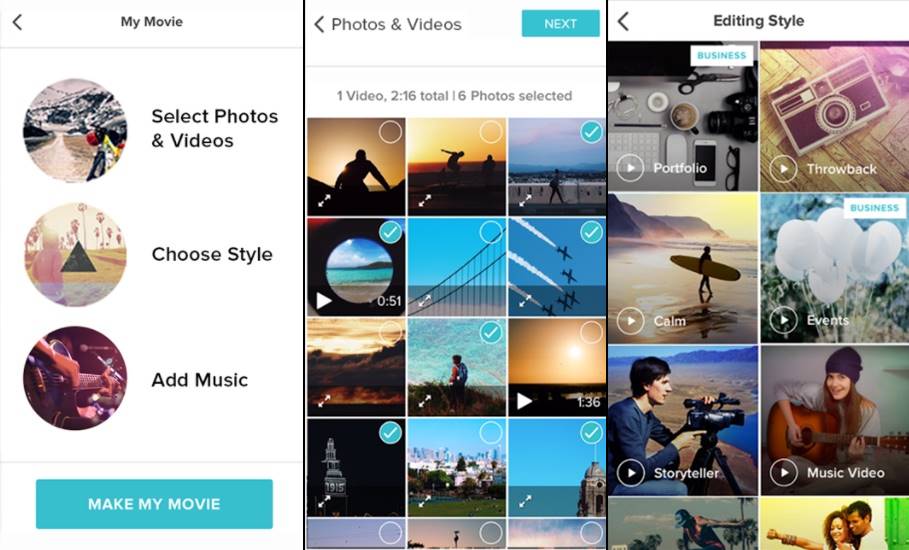 Magisto is a great video editor app for those who don't have a formal video editing experience. It combines video clips, photos, music, text, video effects, and video filters to help you make an excellent video without much effort. Just select one or more video clip and a song for the soundtrack and the app will automatically create a video within a few minutes.
Magisto uses a sophisticated A.I. that analyzes the videos and chooses the most interesting fragments. It usually produces an excellent result in video making. This FilmoraGo alternative is free with some in-app purchases.
Features of Magisto
Excellent auto-editing feature
Direct option to share videos on Facebook, WhatsApp, Instagram, Vimeo, YouTube, and Twitter
Advanced tools for vloggers and marketers
10. Movie Maker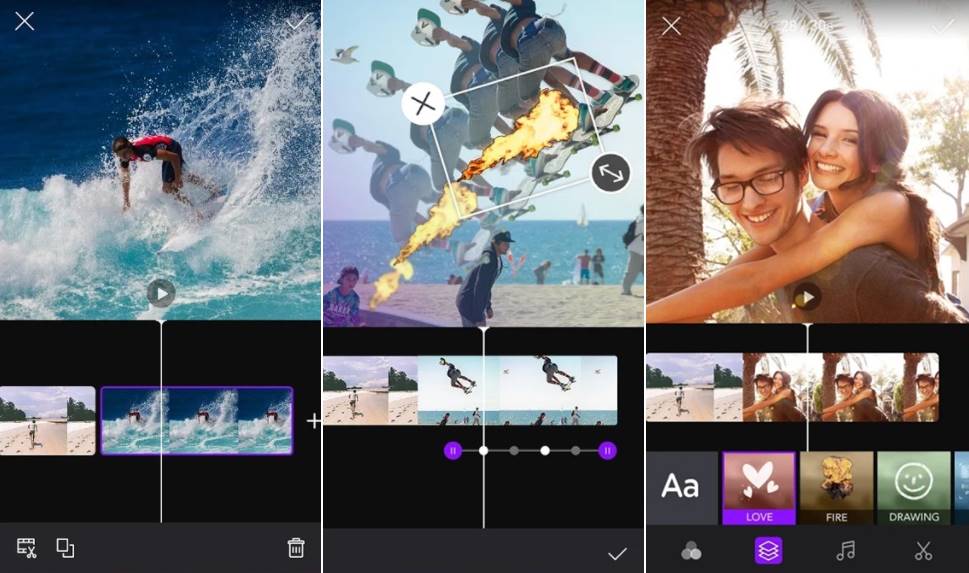 It is another good video editor worthy to be on this list of best video editing apps for 2019. The app is 100% free with intuitive video editing tools that are easy to handle. The app offers an efficient means of making 16:9 videos or videos for Instagram in squared format.
Overall, the app is useful for making short videos, but it displays a lot of ads, which can be very disturbing.
Features of Movie Maker Filmmaker
Motion track animation effects and text animation effects
Music slideshows feature
A host of stickers, filters and cinematic effects
11. Filmigo Video Maker
Filmigo has simple UI with essential features right at your fingertips. Once you start editing a video, you can either choose a template with a pre-ajusted song or get into the real editing.
The video editor for Android offers a number of exciting editing options, such as adding several songs in a single video, adding subtitles, stickers, GIFs, etc. Users can doodle on their videos as well.
Filmigo Video Maker also offers a separate music section where users can add music from the app's vast library. Once the video is finalized, users can export the project to different social media handles right form the video maker.
While the app features a number of editing tools, many find the app way too cramped for a smartphone, particularly for large projects where people need edits on particular timestamps. And despite the hardware acceleration, the Android video editor app is known for freezing on many Android devices.
Did you find this list of 10 best video editing apps for android to be helpful? Share your reviews in the comments.